Elevate Your Business: The Expertise of Our Commercial Roofers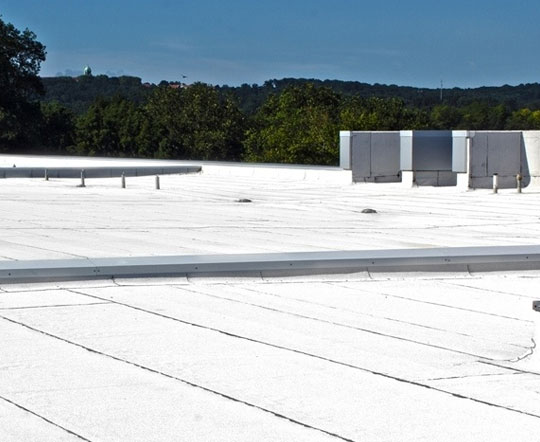 A commercial roof is more than just a protective shield; it's a symbol of your commitment to quality and success. Whether you operate a retail space, an office building, or any commercial venture, your roof's integrity directly impacts your employees' safety, the security of your assets, and the overall impression you leave on clients and customers.
When it comes to the success and longevity of your business, every aspect matters – including the roof over your commercial establishment. A robust, well-maintained roof protects your investment and reflects your enterprise's professionalism and reliability. At Roof MD, our commercial roofer in Southaven, MS, stands ready to elevate your business with unparalleled expertise and a commitment to excellence.
Our Team: Masters of Commercial Roofing Craft
What sets our commercial roofer in Southaven, MS, is a combination of skill, experience, and a customer-centric approach. Our team comprises seasoned professionals who bring expertise to every project. From routine inspections to complex installations, we pride ourselves on delivering services beyond industry standards.
Comprehensive Inspections for Proactive Solutions
Understanding the unique needs of your commercial property is where our journey begins. Our experts conduct comprehensive inspections, leaving no shingle unturned. Identifying potential issues before they escalate allows us to provide proactive solutions, ensuring the longevity of your roof and preventing unexpected disruptions to your business operations.
Precision in Roof Repairs
Even the sturdiest roofs can face wear and tear over time. Our commercial roofers have the skills and tools to promptly and effectively address repairs. Whether fixing leaks, replacing damaged sections, or reinforcing vulnerable areas, we approach each repair with precision and dedication to quality craftsmanship.
Expert Installations for Lasting Impressions
Planning a new commercial space or in need of a roof replacement? Our team excels in expert installations that not only meet but exceed your expectations. We work with top-tier materials, ensuring durability and resilience against the elements. Our commitment to excellence shines through in every installation, leaving you with a roof that enhances the aesthetic appeal of your business.
Emergency Services: Ready When You Need Us
We understand that emergencies can happen at any time. That's why our commercial roofing team is available for swift response and resolution. Whether it's storm damage, leaks, or any other urgent issue, count on us to be there, ready to protect your business from further harm.
Contact Us Today to Take Your Roof – and Business – to New Heights!
Ready to elevate your business with a commercial roof that speaks volumes about your commitment to quality? Contact us today for a consultation. Our team is eager to discuss your roofing needs and tailor a solution that ensures your Southaven-based enterprise's continued success and prosperity. Trust us to be the steadfast guardians of your commercial roofing needs, lifting your business to unparalleled heights.