Over the years, a chimney can sustain quite a lot of damage. It's exposed to the elements outdoors, plus heat and creosote from the indoor fireplace. Because of the extreme weathering conditions a chimney can be exposed to, it's susceptible to damage from wear and tear over time. If your chimney is showing signs of wear and tear, our expert team of roofers and chimney restorers can fix it. At Roof MD, we prioritize the safety of our customers, as well as the appearance and structural integrity of their homes. By calling us promptly for chimney repairs in Tennessee, you can prevent further damage to your chimney that might result in a dangerous chimney collapse.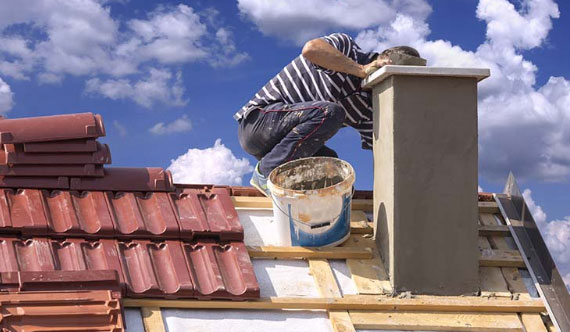 Signs That Your Chimney Requires Repairs
Because the chimney is on your roof, you might not notice right away that it's taking on damage. However, the sooner you notice the signs of a damaged chimney, the easier it is to fix the damage. If you ignore a damaged chimney, the damage will continue to get worse and the structure will require more extensive repairs or complete restoration. If you notice any of the following problems, call Roof MD right away to schedule an inspection.
White stains or streaking
Rust
Crumbling mortar joints
Brick spalling
You might also notice shaling, indicated by the presence of bits of metal or ceramic in the fireplace. These are chips from the chimney liner, which will require repair or replacement.
Common Types of Chimney Repairs Our Team Provides
If your chimney has sustained water damage, our team can remove the crumbling mortar and damaged bricks. We'll color-match your new bricks and install them along with brand new mortar that supports the structural integrity of the chimney.
Another common repair service we provide is the repair or replacement of the chimney liner. The chimney liner, or flue lining, is a ceramic, metal, or clay component that protects the chimney walls by containing the combustion products and redirecting them to the exterior. We'll evaluate your unique situation to determine which type of chimney liner is appropriate for your home.
Other common chimney repairs include the following:
Unsecured masonry
Flue cracking
Cracked crown
Crumbling mortar
Damaged flashing
Roof MD provides prompt and dependable chimney repair services for our valued customers throughout Tennessee. Our experienced roofing and chimney repair team has more than 60 years of combined experience working on homes. This experience is reflected in the quality of our craftsmanship. Located in Germantown, TN, our service areas include Memphis, Arlington, Lakeland, Hernando, and beyond. Give us a call today at (901) 305-9136 to request a complimentary inspection!