Asphalt shingle roofs are the most popular type of roof in North America. If you have decided that you would like to replace your current roof with a shingle roof, then the next step is to pick out the brand of shingles you would like. Here at Roof MD, we can install any type of shingle product, but we often recommend GAF shingles. More than 90 million Americans have a GAF roof, with good reason. GAF shingles are known to adhere to the highest standards of quality and to withstand the elements well. For more than a century, the GAF name has been synonymous with high-performance, award-winning residential and commercial roofing products.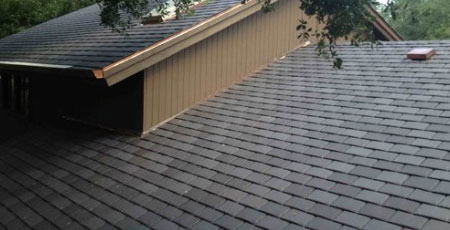 GAF Advanced Protection Shingles
There is a good reason why one in four residential homes in the U.S. has a GAF roof. These shingles are workhorses that are built to last. GAF's Advanced Protection Shingles pass an incredible 4,375 quality checks before they are allowed to enter the marketplace. This high-tech shingle passes the two toughest wind resistance tests in the roofing industry: ASTM D3161, Class F, 110 mph, and ASTM D7158, Class H, 150 mph. Plus, GAF Advanced Protection Shingles demonstrate superior fire resistance, wind uplift resistance, toughness, and flexibility.
The Anatomy of a GAF Shingle
To understand what makes a GAF shingle different from its competitors, it's necessary to take a closer look at its construction. One of the layers in an asphalt shingle is the fiberglass mat. A typical, non-GAF shingle may simply add on more asphalt in order to meet the industry's weight requirements. In contrast, GAF Advanced Protection Shingles use low-profile technology with a proprietary orientation of glass fibers. This gives the shingle optimum strength and durability.
Another layer to take a look at is the filler. Filler materials are mixed with asphalt in order to bind the components together. In a typical shingle made by a competitor, you will find filler ingredients that do not necessarily enhance performance. In a GAF Advanced Protection Shingle, you will find premium limestone filler that gives the shingle even better protection against the elements.
How to Contact Roof MD
The GAF Master Elite Contractors at Roof MD look forward to exceeding your expectations on your residential or commercial roofing project. In addition to earning the GAF Master Elite certification, Roof MD is also an Owens Corning Platinum Preferred Contractor and a CertainTeed Select ShingleMaster. If you would like to request a free estimate for your new roof installation, then call our office in Germantown, Tennessee at (901) 305-9136. . Our expert roofers also serve the surrounding areas, including Memphis, Hernando, and Collierville.
If you would like to experience the GAF difference for yourself, then call the friendly team at Roof MD. You can reach our office in Germantown, Tennessee at (901) 305-9136. We offer free roof installation estimates to customers in our hometown and throughout the surrounding areas, including Lakeland, Memphis, Millington, and Cordova. We look forward to helping you protect your home and family with a new GAF roof.