If you're in need of gutter repair services in Memphis area, look no further than Roof MD. Our experienced team of gutter repair and roofing professionals can accurately diagnose the source of the problem and recommend effective repair solutions that fit within your budget.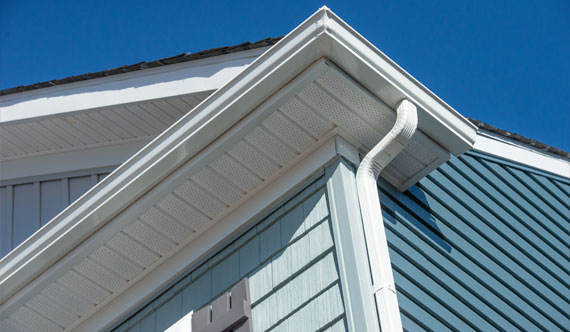 Our Gutter Repair Services
Roof MD is pleased to offer complete gutter repair services to homeowners throughout the Germantown and Memphis areas. We will carefully inspect your gutters to determine the source of the problem. Depending on the condition of your gutters, our experienced team may do any of the following:
Re-attach loose gutters.
Patch holes in leaky gutters.
Reconnect loose downspouts.
Seal seams to ensure integrity.
In addition, our team can even redirect downspouts to keep the flow of water running away from your home's foundation. Keeping your home's foundation dry is crucial for ensuring its long-term integrity and preventing the need for expensive foundation repairs. As a result, our gutter repair services can help your home stay in good shape longer, preserving its value and its functionality.
Signs You Need Gutter Repair Services
It's important to continually monitor your home for signs that it needs repairs. The longer you ignore a potential problem, the more likely it is that it will turn into a larger and more expensive problem. Keep an eye out for the following warning signs that you need gutter repair services from Roof MD:
Clogged gutters: In most cases, clogged gutters simply need to be cleared out. However, if your gutters get clogged more often than they should, the problem might actually be their pitch or angle. Gutters that are completely level will not drain properly into the downspout. Our team can assess the level of your gutters and adjust them to ensure proper drainage.
Sagging gutters: Gutters can begin to sag when tree branches fall on them, when they are clogged, or when they weren't installed properly. Sagging can also occur due to the age of the gutters.
Detached gutters: Gutters are more likely to become detached if they've been sagging for a while and haven't been repaired promptly. They can also begin to pull away from the soffit if they weren't installed correctly. Our team can expertly reconnect them for you to prevent this problem from happening again.
Leaky gutters: Cracks and holes in the gutters can happen over time, especially if the seam wasn't sealed properly. They can also develop if the gutters are struck by falling branches. In some cases, our team can patch holes and cracks. However, in more severe cases, we may need to replace the gutters entirely.
Roof MD offers free estimates on gutter repair projects on residential and commercial buildings in the Memphis, TN area. Based in Germantown, our roofing and gutter repair company prioritizes the complete satisfaction of our customers. Call (901) 305-9136 today to request a free quote.