Roof flashing is a weatherproofing material that is used on roofs and chimneys. Its purpose is to prevent water from leaking into your home. If you have a leaky roof or chimney on your hands, then there is a good chance that the problem is actually your flashing, rather than your roof. If this happens, you can schedule an appointment with one of our experts here at Roof MD. We will carefully examine your property to determine whether you need roof repairs or replacement.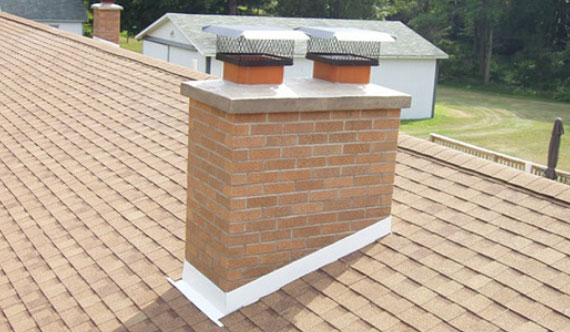 Understanding Roof and Chimney Flashing
Flashing is a thin, yet durable layer of sturdy aluminum or galvanized steel. Roofers install it over joints in roofs to prevent water from seeping in around the shingles. In the areas of a roof that feature valleys, dormers, vent pipes, skylights, and chimneys, you will notice strips of flashing. These strips capture streams of rainwater and redirects them to the shingles, where the water can be safely disposed of in the gutter system. Without these strips, water could potentially seep into the nooks and crannies, getting to the roof deck and potentially inside the home.
As effective as these strips may be at keeping out the water, however, they are not as long-lasting as the shingles themselves. Flashing is highly prone to damage from the elements, including oxidization and weathering. At Roof MD, our professional roofers cut their own roof flashing from sheet metal, thus enabling our team to customize the exact shape and size to suit your home's unique needs.
Signs of Damaged Roof and Chimney Flashing
If your flashing appears to be in rough shape, then get in touch with Roof MD right away. Repairing or replacing it promptly is important for maintaining the structural integrity of your home. Putting off these repairs, on the other hand, can result in more expensive repairs later on. Watch out for the following signs that your flashing is in need of expert attention:
Rust or corrosion

Loose or missing pieces

Bends, cracks, or dents

Small holes

Interior leaks near skylights, fireplaces, and windows
In addition, the fascia boards may show signs of damage if the flashing isn't in good shape. They may appear stained or covered in mold. Damaged roof flashing can also cause the siding or shingles to show signs of water damage. If you see any signs of damage, then you should get in touch with a qualified roof repair contractor as soon as possible.
Contact Roof MD for All Your Roofing Needs
For the expert repairs you need in Tennessee, look no further than Roof MD. Our expert craftsmen can repair or install new flashing on your roof or your chimney for a leak-proof seal. Based in Germantown, we proudly serve the surrounding areas of Olive Branch, Hernando, Memphis, and beyond. So, are you ready to get started? No problem! Get in touch today at (901) 305-9136. to request a free estimate.