Most U.S. homes feature a shingled roof. Asphalt shingles are popular because they are affordable, durable, and beautiful. They offer excellent weather resistance, including wind and fire resistance, making shingles a safe choice for your family. If you think your current roof is nearing the end of its lifespan, you can request a free estimate for a new roof. Just get in touch with Roof MD in Germantown, Tennessee. Our licensed and certified roofers work with some of the best brands in the industry, including GAF, Owens Corning, and CertainTeed.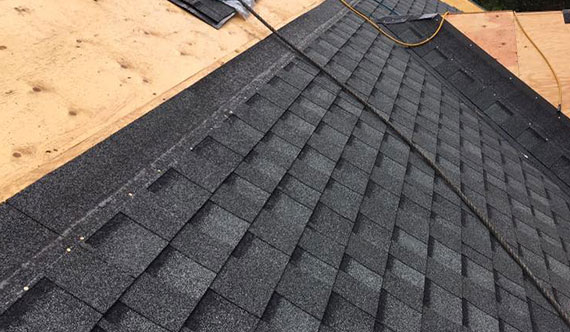 Signs You Need a New Roof
The average shingled roof can last up to 20 years before it needs to be replaced. However, it is important to note that it's possible the roof may need repairs before it reaches the end of its lifespan. Roof MD offers both roof repairs and roof replacements. Our experts will thoroughly evaluate your roof to determine whether you can get by with a few repairs or whether it is time to replace it altogether. Here are a few signs that may indicate that it's time to replace the roof:
The edges on multiple shingles display curling or the shingle tabs are cupped.
The shingles have multiple bald spots with missing granules.
Some of the shingles may have cracks.
The roof looks worn and weathered.
The shingles are harboring moss growth, which traps moisture against the shingles and can lead to water damage.
Another factor to consider is whether your neighbors have been replacing their roofs lately. Many neighborhoods feature homes that are built at around the same time. Thus, it is likely that your neighbors have roofs that are roughly the same age as yours.
What to Expect from a New Roof
The process begins with requesting a free estimate at Roof MD. We'll send over a professional who will carefully evaluate your roof to determine whether replacement is necessary or whether a few minor repairs are all that is needed. If your roof requires a replacement, then we will develop a free estimate based on your roof measurements.
Then, we'll explain your options. You can choose your new shingles from some of the leading manufacturers in the business. We often recommend shingles by GAF, Owens Corning, and CertainTeed. These companies all offer different lines of shingles at varying price points, styles, and colors. We'll help you choose one that best fits your needs, and then we'll schedule your new roof installation.
When You Need Roofing Services, Call Roof MD
If you have any questions about your shingle roof, the experts at Roof MD will be happy to assist you. We install and repair residential and commercial shingle roofs in Tennessee. We also use top-quality products by GAF, CertainTeed, and Owens Corning. Based in Germantown, our roofers will travel to the surrounding areas for our clients in Hernando, Memphis, Lakeland, and beyond. Do you have any questions? Get in touch today at (901) 305-9136 to request a free estimate.