Hail is one of the most common sources of roof damage. Unfortunately, it is very difficult to protect your roof from severe hail. That's why, if you live in a region that is prone to hailstorms, you should be ready to call a reliable roofing contractor in the event that your roof sustains hail damage. If you live in the greater Memphis area, then you can rely on Roof MD for all of your roof repair needs. We are committed to providing our customers with the first-class roofing services they need.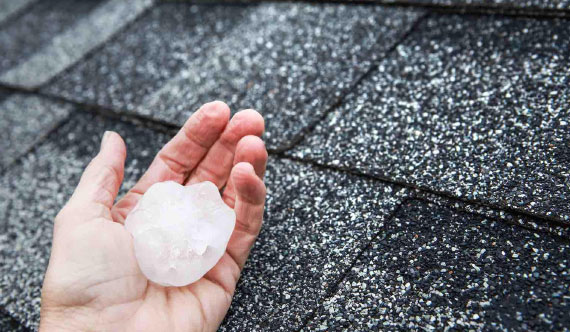 About Hail Damage
Hailstones can wreak severe damage across your entire roof. They can cause shingles to come loose or even break. They can also damage gutters, flashing, chimney caps, and other components of your roof. Finally, they can raise your risk of suffering a roof leak. However, hail damage can be difficult for homeowners to spot themselves. If a major hail storm has swept through your neighborhood, then it's time to have your roof inspected by an experienced roofing professional.
Our team can provide you with a thorough roof inspection. We will check your entire roof surface for signs of hail damage, including your flashing, chimney, vents, and gutters. If there is any damage, we will provide you with fast and professional repairs. If the damage is severe enough to necessitate replacing your roof, we will be able to make that determination. Above all, our team will provide you with the peace of mind you deserve.
How to Contact Roof MD
Has your roof been badly damaged? Spare yourself any potential problems by having your roof repaired right away. Roof MD is a locally owned and operated company that provides a wide array of essential roof services to the Memphis area. We serve both residential and commercial customers, and we work to make sure that everybody is fully satisfied with the services we deliver, including hail damage repair. Are you ready to learn more? Call us today at (901) 305-9136.