If you're tired of the seasonal maintenance required for your gutters, it's time to consider investing in a gutter guard system. The gutter experts at Roof MD in Germantown, TN provide free estimates for new installations of the Leaf Defender™ Gutter Guard system. In addition, if your current gutters are in disrepair, we can either repair or replace them before installing a new gutter guard system. Get in touch today for your free quote!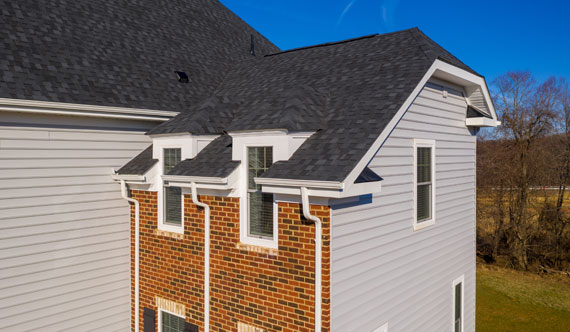 What Is a Gutter Guard System?
Every time it rains, the water flows down your roof and into your gutters. The gutters are slightly angled so that the water flows into the downspouts. From there, the downspouts redirect the water away from your home's foundation. Unfortunately, the gutters can collect a lot more than rainwater. Leaves, pine needles, insects, and even dead rodents can accumulate inside the gutters.
When the gutters are clogged with debris, they can't do their job properly. In addition, clogged gutters are prone to sagging and detaching from the house. When this happens, you'll need to schedule gutter repair or replacement services. Attentive homeowners know that it's important to clean their gutters regularly to prevent these problems. However, cleaning out the gutters is a dangerous (and frequently disgusting) job.
Instead, savvy homeowners get a gutter guard system installed. A gutter guard is a mesh product that fits tightly over the top of the gutters to prevent debris from entering them. However, rainwater is able to pass through the mesh and into the gutters. In short, a gutter guard system saves you the time and hassle of cleaning out your gutters.
Why We Recommend the Leaf Defender™ Gutter Guard
At Roof MD, we recommend and install the Leaf Defender™ Gutter Guard. This particular product provides superior protection against all types of debris that typically clogs gutters. These include leaves, pine needles, twigs, and pests, including insects and animals. In addition, the Leaf Defender™ system protects your home from wood rot and gutter overflow while keeping your gutters completely clear of debris.
Furthermore, the Leaf Defender™ Gutter Guard system is affordable for homeowners and commercial customers. Made of stainless steel with a raised-ridge patterned screen and a lightweight aluminum edge, the Leaf Defender™ Gutter Guards blend in beautifully with every building's existing décor. As an added bonus, the Leaf Defender™ system comes with a 20-year limited warranty for your peace of mind.
Here at Roof MD, our team has extensive experience installing the Leaf Defender™ Gutter Guard system in homes and commercial buildings throughout the Memphis region. To request a free estimate for a gutter guard system for your building, you can call our office in Germantown, TN at (901) 305-9136.