A chimney is the crown jewel of a roof. If yours has begun to crumble or look worn out, then our chimney renovation services can help it look like new again! The team at Roof MD has more than six decades of combined experience. Since chimney renovations aren't generally something that many homeowners have much experience dealing with, our team will also ensure that you are fully informed of the issues involved and the processes we will use to restore your chimney.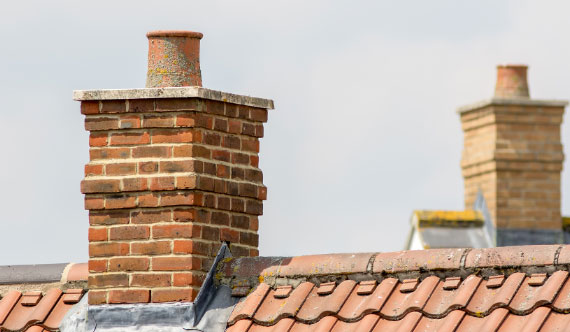 Determining Whether Your Chimney Requires a Full Renovation
Some chimneys require only minor repairs, while others can benefit from a complete restoration. When a chimney begins to sustain damage, the first sign is often efflorescence, which appears as an abnormal white stain on the exterior of the chimney. Efflorescence is a sign that the chimney has begun to take on water damage.
Typically, water damage will attack the mortar of a chimney first. The mortar is the material between the bricks. As the mortar joints sustain damage and begin to crumble, the water is allowed to work its way into the seams between the bricks. This causes even more damage to the brickwork itself. Eventually, the chimney could collapse—a potentially dangerous situation.
If you've just begun to notice white streaks on the chimney, our team may only need to do a few minor repairs. However, if the situation has advanced to the point that the brickwork is affected, a restoration may be necessary. Our expert chimney renovators can remove and replace spalling bricks, and add new mortar to the chimney. Alternatively, if the chimney is in danger of collapse, the entire structure may require removal and replacement.
What to Expect When Renovating Your Chimney
For homeowners, the top priority is typically to achieve an authentic-looking chimney that matches the style of the home. Our team has access to multiple options for your chimney's brick. This allows you to select the style and color palette that matches your home best. Alternatively, you can ask us to match your current brick. Our access to multiple vendors allows us to ensure our customers' satisfaction with the end result.
Roof MD is a locally owned and operated roofing and chimney company. We are located in Germantown, Tennessee, but we're happy to travel to the surrounding areas for our customers in Memphis, Arlington, Lakeland, Olive Branch, and beyond. Not sure whether your chimney really needs a renovation? Give us a call today at (901) 305-9136 to request a free inspection!.