Not all chimneys have caps, but they should. If you've recently bought a home that lacks a chimney cap, or you've just realized that your chimney seems a bit bare compared to your neighbors', call the experts at Roof MD in Germantown, Tennessee. We'll inspect your chimney for free and explain your options for capping it. Our team is committed to providing exceptional customer service and quality craftsmanship. We'll go the extra mile to ensure your complete satisfaction with your chimney services.
What's a Chimney Cap?
A chimney cap is the metal object on top of a chimney. They can be rectangular or round, with a flat, round, or peaked "roof" on top. You'll notice that chimney caps have mesh screens around the sides. Chimney caps are typically made from galvanized steel, stainless steel, aluminum, or copper. Chimney caps rarely last the life of the house itself, as they are susceptible to damage from the elements. However, our team can recommend the most durable option available to you.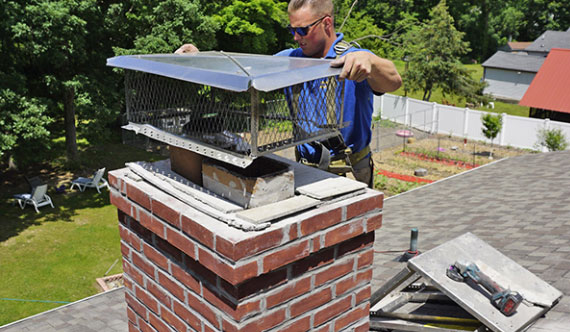 Reasons to Install a Chimney Cap
Chimney caps are protectors of this oft-overlooked entry point into your home. If your chimney currently lacks a cap, or your cap has sustained significant damage, our expert chimney repairers can install a new one for the following reasons:
Prevents rain from entering the chimney
Keeps animals out of the home
Prevents downdrafts that can blow smoke back into the home
Reduces the risk of chimney fire
Prevents the buildup of debris inside the chimney
When to Repair or Replace Your Chimney Cap
Chimney caps that have sustained minor damage can often be repaired. The team at Roof MD can repair your chimney cap if it has begun to loosen or get warped. We can also remove the creosote buildup on the mesh sides to ensure they continue to function as intended. However, certain problems call for the replacement of the entire chimney cap. You should plan on replacing it if any of the following things occur:
The chimney cap displays signs of rusting.
If the chimney cap features turbines, the turbines have clogged and failed.
The mesh sides are significantly clogged with creosote and have begun pulling apart from the rest of the cap.
The chimney cap has been damaged by a chimney fire.
Roof MD is a locally owned and operated company based in Germantown, Tennessee. However, our service areas extend beyond our hometown to Memphis, Millington, Cordova, and the surrounding areas. We believe in providing high-quality craftsmanship and durable products at affordable prices. If you're in need of a new chimney cap installation or other chimney services, give us a call at (901) 305-9136 to schedule an appointment.