Chimney caps are an essential feature of any well-built chimney. These components are made from metal. They are installed at the top of the chimney, above the crown. This prevents rainwater and animals from entering the flue. Here at Roof MD, we not only repair and install chimney caps, but we can also install a range of chimney cap accessories. These chimney cap accessories are intended to make a chimney cap perform better or fit better on the chimney. If you've been experiencing any problems with your chimney, then give us a call. Our team can figure out which accessories your chimney cap needs.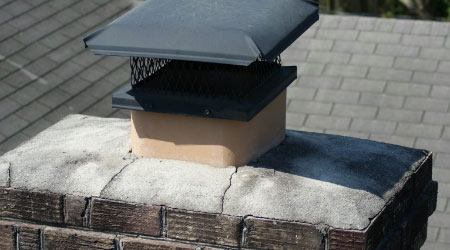 Chimney Cap Spark Arrestor
There's nothing quite as cozy as a warm fire on a chilly winter evening. You probably already know that you need to keep the fireplace screen or spark guard closed to prevent sparks and embers from flying out of the fireplace and igniting nearby items. But have you thought about sparks flying out of your chimney and igniting your roof?.
It's possible for a spark to travel up the flue and out of the chimney, which is why it's essential to accessorize your chimney cap with a spark arrestor. The experienced team at Roof MD offers professional installation of top-quality spark arrestors designed to protect your roof from stray sparks.
Chimney Cap Adapters
If your chimney doesn't have a cap, you may need to invest in an adapter along with the cap itself. Chimney cap adapters provide a seamless transition from the flue to the chimney cap, enabling a snug fit and dependable functionality. When you become a client at Roof MD, our team will carefully evaluate your chimney to determine which type of chimney cap adapter you'll need.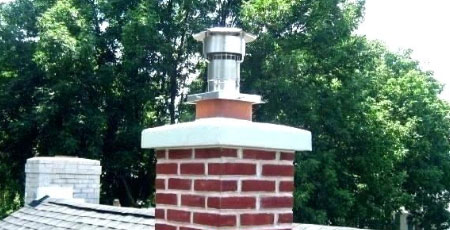 Chimney Cap Flue Stretchers
Some chimneys have a problem with negative pressure, resulting in drafts and the downward pull of smoke. If you have been experiencing this problem, our team can install a flue stretcher for your chimney cap. This chimney cap accessory will increase the length of the component. This reduces the downdraft and prevents smoke from entering your home.
Contact Roof MD
The Roof MD team has 60 years of combined experience working on residential homes and commercial buildings throughout Tennessee. Based in Germantown, we travel to the surrounding areas, including Lakeland, Memphis, Collierville, and Hernando. We specialize in roof and chimney repairs and new installations, delivering top-notch customer service along with peace of mind for our clients. Would you like to learn more? No problem! Call us today at (901) 305-9136 to request a free estimate.