Reasons to Schedule Chimney Repair This Fall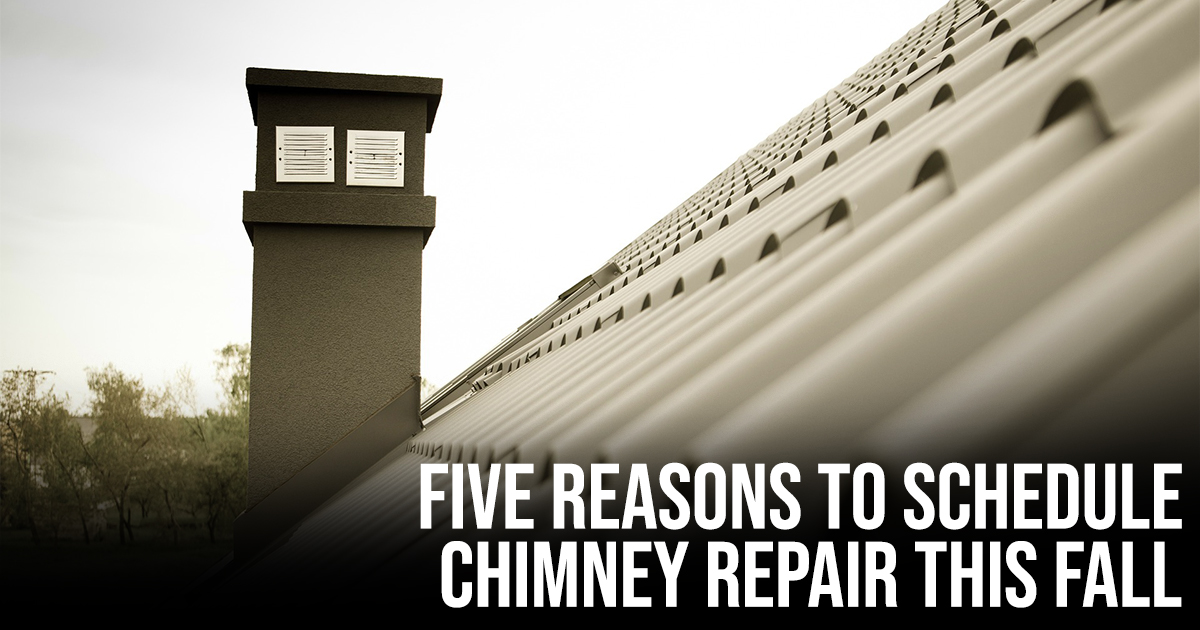 The leaves are changing color and falling from the trees. The weather is getting cooler and crisper. It's finally fall! As we enjoy the autumn season, it's important to remember to take care of our homes. One important task that often gets overlooked is chimney repair.
Chimney repair may not seem like an urgent task, but it's important to take care of any needed repairs before the cold winter weather sets in. In this post, we'll share five reasons why you should schedule chimney repair this fall.
Most Common Chimney Issues that Need Repair
The chimney system can be complex with many different parts that work together to ensure proper function and ventilation. Over time, various components of the chimney can start to deteriorate and need repair. Chimney repair contractors typically see the same types of problems over and over again.
The most common chimney issues that need repair are:
Cracks in the Chimney Crown
The chimney crown is the concrete or masonry structure that sits atop your chimney. Over time, it can start to crack and erode due to exposure to the elements. A cracked chimney crown can allow water to seep into your chimney, causing damage to the structure. Repair cracks in the chimney crown as soon as possible to avoid further damage.
Missing or Damaged Flashing
Chimney flashing is the metal material that's used to seal the gaps around your chimney. If it becomes damaged or starts to come loose, it can allow water to leak into your home. Avoid additional chimney flashing repair costs by having the issue fixed as soon as possible.
Missing or Damaged Chimney Cap
A chimney cap helps keep water, debris, animals, and sparks from entering your chimney. If it's missing or damaged, it needs to be replaced. Large cracks or holes will require a new chimney cap, while small cracks can be repaired.
Damaged or Worn Mortar Joints
Mortar joints are the spaces between the bricks in your chimney. They can become damaged or worn over time, leaving your chimney vulnerable to water damage.
Blockages in the Chimney
If your chimney is blocked, it can't do its job properly. Blockages can be caused by a number of things, including animals, leaves, and debris.
Loose Bricks
Bricks can become loose due to water damage, age, or settling. If left unrepaired, loose bricks can fall and cause serious injury. Surrounding bricks can start to deteriorate if the issue is not resolved.
Leaks
If you see water stains on your ceiling or walls, it's a sign that your chimney is leaking. Leaks can be caused by a number of things, including cracked bricks, missing flashing, or damaged mortar joints. A leaking chimney needs to be repaired as soon as possible to prevent further damage. Minor cracks can be repaired, but more severe damage may require a complete chimney rebuild.
Obstructions in the Flue
The flue is the part of the chimney that carries smoke and fumes out of your home. If it becomes blocked, it can cause a dangerous buildup of carbon monoxide in your home. Smoke chamber parging is a common chimney repair that involves removing debris and blockages from the flue. A cracked flue liner can also cause problems and may need to be replaced.
Rusting Metal Components
The metal components of your chimney, such as the damper and firebox, can rust over time. Rust can cause serious damage to these parts and needs to be addressed as soon as possible. Chimney replacement costs for metal components can be expensive, so it's best to catch the problem early.
As you can see, there are several different chimney repair issues that can arise. If you need chimney repair, Roof MD offers comprehensive repair services. We'll be happy to conduct a chimney inspection and help you get your chimney in good working condition before winter arrives!
If you are looking for a local chimney repair company in the Nashville area, Roof MD is the company to call. We have over 60 years of experience with chimney repair and are dedicated to providing our customers with quality service.
Benefits of Scheduling Chimney Repair in the Fall
Scheduling chimney repair in the fall has many benefits. Chimney cleaning and repair should be done at least once a year to keep your home safe and functioning properly. Here are five reasons to schedule chimney repair this fall:
To Prepare Your Chimney for the Winter Season
Your chimney is exposed to the elements year-round, and over time, it can start to show wear and tear. Fall is a great time to have any necessary repairs done so that your chimney will be ready for use come winter. It's more convenient to schedule repairs when you're not using your chimney. This way, you can be sure that the repair work will be done properly without having to worry about disruptions to your daily routine.
To Avoid Dealing with the Mess during the Holidays
No one wants to deal with a messy chimney repair project during the holidays. Cracked tiles, broken mortar, and gaps in the flashing can all lead to disruptions in your home. By scheduling chimney repair in the fall, you can avoid having to deal with any holiday disruptions. Enjoy your holiday season stress-free without worrying about your chimney.
To Keep Your Family Safe
A damaged or poorly-maintained chimney can pose a serious safety hazard for your family. By having your chimney repaired, you can rest assured knowing that your family is safe from potential hazards. A chimney fire is one of the leading causes of house fires, so it's important to make sure your chimney is in good working condition.
To Prevent Further Damage
If left unrepaired, small problems with your chimney can quickly turn into big and expensive ones. By taking care of repairs in the fall, you can avoid having to deal with more extensive damage down the road.
To Save Money
Fall is typically a slower time for contractors, which means you may be able to get a discount on repairs. Scheduling your repairs in the fall can help you save money on what is likely to be a necessary expense. Chimney repairs are also often more expensive when they're put off until later. By taking care of repairs early, you can avoid the cost of more extensive damage.
These are just a few of the reasons why it's important to schedule chimney repair in the fall. By taking care of repairs now, you can avoid bigger problems down the road and keep your family safe all winter long. Contact Roof MD today to schedule a consultation. Our team of experts will be happy to help you with all your chimney repair needs.
What to Expect During a Chimney Repair
Chimney repairs can vary depending on the type and severity of the damage. Smaller repairs, such as fixing a loose brick or replacing a missing chimney cap, can usually be completed in a day. More serious repairs, such as replacing a flue liner or repairing water damage, may take longer. Chimney bricks that have been damaged by water will need to be replaced, and the chimney may need to be re-pointed. This type of repair can take several days to complete.
No matter what type of repair you need, our team at Roof MD will work quickly and efficiently to get the job done right. We'll also clean up any debris or mess left behind, so you can enjoy your cozy fireplace this winter worry-free!
Chimney Repair Services We Offer
At Roof MD, we offer a variety of chimney repair services to fit your needs. We can fix minor damage, such as loose bricks or cracks in the mortar, or we can conduct a complete chimney rebuild. No matter what type of repair you need, our team will work quickly and efficiently to get the job done right. We also offer a free estimate for all chimney repair services, so you'll know exactly how much it will cost before any work is done.
Here are some of the chimney repair services we offer:
Masonry chimney repair
Chimney cap installation
Flue liner repair or replacement
Chimney sealing
Chimney Inspection
Chimney Cleaning
Chimney Repair
Chimney Rebuilds
Let us help with your chimney restoration and give you peace of mind this winter season. Reach out to us today to schedule an appointment for your chimney repair. We'll be happy to answer any questions you have and help you get a safe and comfortable winter.
Our Chimney Repair Process
At Roof MD, we understand that having a chimney repair can be stressful. That's why we take the time to walk our customers through every step of the process, from the initial inspection to the final cleanup. We also offer a variety of financing options to make paying for repairs easy and convenient.
Here's what you can expect when you schedule a chimney repair with us:
A thorough inspection of your chimney to identify the problem areas
A free estimate for repairs, so you'll know exactly how much it will cost
Quick and efficient repairs completed by our experienced technicians
A final cleanup of any debris or mess left behind
A worry-free fireplace to enjoy all winter long!
Other professional chimney repair companies in the area may try to upsell you on services you don't need. At Roof MD, we believe in being honest and transparent with our customers. We'll never try to sell you on something you don't need, and we'll always give you a fair price for quality repairs.
Choose Roof MD for Excellent Chimney Repairs!
While most chimney repairs are not preventable, there are a few things you can do to extend the life of your chimney and avoid major repairs down the road. Be sure to have your chimney inspected and cleaned at least once a year, and repair any damage as soon as it's found.
It's also important to choose a reputable and experienced chimney repair company like Roof MD. We have over 60 years of experience in the roofing and chimney industry, and our team is dedicated to providing excellent customer service. We're also fully licensed and insured for your peace of mind.Schedule an appointment today!